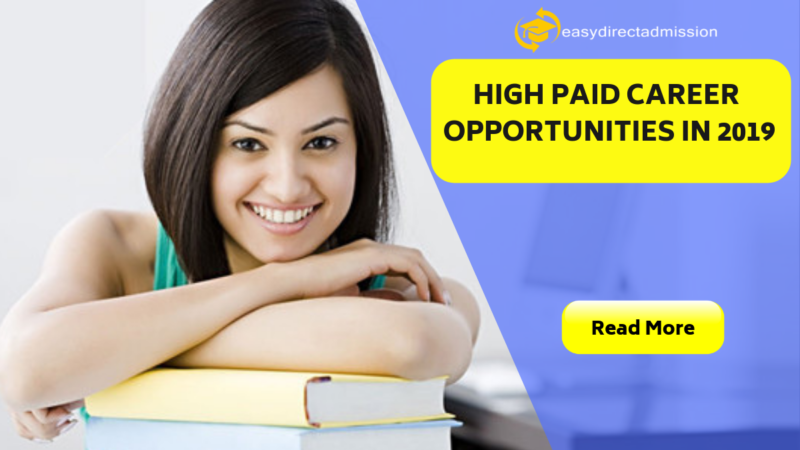 The trends in jobs are changing. Make your career with Easy Direct Admission. Before, getting a degree assured you a job. But now with the advancements in technology, most of the jobs are getting digitalized and you can get the highest pay. There are many jobs that have become obsolete due to the usage of computers. Not only this, many new jobs and career opportunity have also emerged in the market. The new era of digitalization and increased dependence of people over social media applications have created a new field altogether for the marketers.
Digital Marketing is one of the most required skills for any marketing personnel today. If he wants to exceed well in his field it is recommended that he is well equipped with all the skills. Just like this, many new jobs are now available in the market and they require a skill set that is different from the undergraduate degree and postgraduate degree. Similar to digital marketing in marketing, we have data scientists and analyst jobs that have come up very recently.
The emergence of the internet of things, artificial intelligence and innovation are paving the way for a completely different field. In order to keep up with appraisals and job security, it is important to gain such skills. With the advent of such skills, many businesses providing training in such skills are gaining momentum. Many websites like Udemy, Udacity, UpGrad, etc. are becoming more popular day by day. Here, you can train yourself with adequate skills to become competent in your field of profession.
As the companies are going digital, it is important that you should go digital as well. Gone are the days when having the basic knowledge of computers could land you an amazing job. Now, even the most unique of jobs are not unique anymore. You just get an amazing job with an MBA degree.
You need to be well equipped in much different skill set along with the specialization in your particular field.  This may sound like a huge job, but it is very easy and interesting to study. The reason is clear diverse subjects are always interesting to study. The only drawback of gaining these skills is they are a bit on the expensive side. If you want to be certified by some renowned brand, it will surely cost your around one to three lakhs.
Here are some useful insights for you to consider before starting any course:
This is a platform which connects the education seekers with the education providers. This is an online platform where you can consult, learn and get training services for your company's employees. This company provides the opportunity to both the Indian as well as International students. For any career-related advice, you can visit the official website and gain insights about the admission in a good college or about skills that might be useful for you.
For more inquiries, if you are in Bangalore, you can visit the headquarters; otherwise, you can call the company or visit the website. Some notable advantages of this company are better profiling colleges and university selection, letters of recommendation, direct admission via the management quota, university interview preparation and many more facilities like this.
There are certain colleges that take direct admission to several of their programs. One such company that is dedicated to providing direct admission counselling to the student is Direct Admission. There can be many students who just can't afford to invest the same amount of time and money of finding the college and their luck through the entrance exams. The Easy Direct Admission provides direct counselling to the students in the most trustworthy and transparent manner.
The company aims at providing you with guidance for admission in the top colleges. You can book a session with the company and they will give you all the requisite information for taking admission in the dream college. Some notable colleges that take direct admission through this company are JBIMS, RVCE, MIT, and JHC. These are the top colleges in their respective fields. The two main streams, where the competition is very stiff and thus, becomes quite difficult to take admission to your dream college are Engineering and MBA.
For engineering colleges, there are certain minimum requirements that you need to fulfill. There are different criteria for different colleges like some may ask for at least 50% in the 12th standard while others may ask for certain marks in JEE Mains. Mostly the private colleges reserve a certain number of seats that are especially for the students who have not done well in the entrance exams.
Sometimes these colleges also mention some criteria like strong extra-curricular background or sports background. The only issue with such colleges is that they demand higher fees for such seats. There is also a management quota in each of these colleges where on the recommendation of the faculty you can get the admission.
For MBA colleges, there are the same criteria as that of the engineering colleges. But the number of seats reserved for the management quota. Some really reputed colleges usually take up based on the job experience of the candidate as well. There are certain courses in big colleges that have fellowship programmes because of which you can get the alumni status of the company which furthers your admission process.
Some notable colleges that have the provision of direct admission are Narsee Monjee Institute of Management, Symbiosis Institute of Business Management, IIFT, etc. Some newer IIMs take admission through it as well.
So students don't get disappointed if you are not able to get the admissions due to your low entrance scores, there are many roads that can take you to the same destination. Just consult some expert so that, you don't end up paying very high fees for the dream course.
For MBBS colleges, you can get admission through the management quota. There is a 100% guarantee to get admission through the management quota in the MBBS program. There are many states that have made it mandatory for medical colleges to reserve the seats for management quota. The state governments of Karnataka, Maharashtra, Tamil Nadu, Delhi/NCR, Uttar Pradesh, Madhya Pradesh, Andhra Pradesh, Kerala, and Pondicherry. There is also a provision for the NRI quota that can get you into the MBBS colleges if you have lived outside India for at least 5 years.
You can look online to get the hint of what are the colleges you can apply to. Then take the consultation of some expert company to know about the procedure and the other requirements for the admission.
Before telling you how you can take admission even if you haven't done well in your entrance tests, let me brief you about the jobs that are on the top of the list right now. The niche jobs that you might feel are not very famous right now can actually fetch you big bucks in the future. Many experts predicted the advent of digitalization and change in the job structure many years ago.
People who were able to exploit the opportunity are today amongst the successful people of the industry. And the ones that neglected are complaining about the obsolescence of their job. So, decide where you want to see yourself in the future? It's all upon you whether you want to write a successful story or a whiny one.
Some new jobs that have emerged in 2019 are:
Data scientist: data has emerged as the most important employee of any company. You can never lay off this employee. In this data-driven economy, you can give a kick to your career by becoming a data scientist. There is an area like SQL, Objective C, JavaScript, and Tableau, that you can expert in. these skills are on the top charts of every IT company.
Artificial intelligence engineer: this is emerging as the most advanced field of profession. Every country is trying to give a boost to its AI and trying to make it as strong as possible. According to the Accenture report, the AI alone will have an increase of 10% increase in jobs by 2020, which is just a year away. With the increase in these kinds of jobs, some jobs are surely going to be redundant. Try and gain skills when it is still time.
Machine learning engineer: this is a daughter professional field of AI. This is often used in the data analytics field, data mining, pattern recognition and powering the web search results. You can have your career specialized in neural networks, natural language processing (NLP) and deep learning.
Full stack developer: the person skilled in this field has full knowledge in every stage of software development, but you don't need to gain special knowledge if you have enough experience in the field. It includes rational and non-rational databases, design and security, etc.
Python developer: this is an interpreted high-level general purpose programming language that emphasis on the code readability. This is ranked number one on the list of most valued jobs. It is the world's fastest-growing design language. The cherry on the cake is the demand for python developers is very high, as not many people specialize in this language. So, if you have the flair for coding, you should definitely take up this as your career option.
In the end, I would like to list down some colleges where you can take direct admission:
TOP 10 ENGINEERING COLLEGES:-
R V College of Engineering, Bangalore
BMS College of Engineering, Bangalore
S. Ramaiah Institute of Technology, Bangalore
Pes university, Bangalore
Dayananda Sagar College f Engineering, Bangalore
Siddaganga Institute of Technology, Tumkur
Bangalore Institute of technology, Bangalore
SRM University, Chennai
VIT University, Vellore
Manipal University, Udupi.
TOP MBA COLLEGES:-    
SOIL, Gurugram
CII School of Logistics, Noida
Amity Global B-school, Delhi
Birla Global University, Bhubaneshwar
Sharda University, Noida
Shiv Nadar University, Greater Noida
GIBS, Bangalore
BIM Trichy
BITS Pilani
IMT
ALL THE BEST!!